Kydavr
Arcade game machine toy claw machine human claw crane big crane claw machine
Acade game machine toy claw machine human claw crane big crane claw machine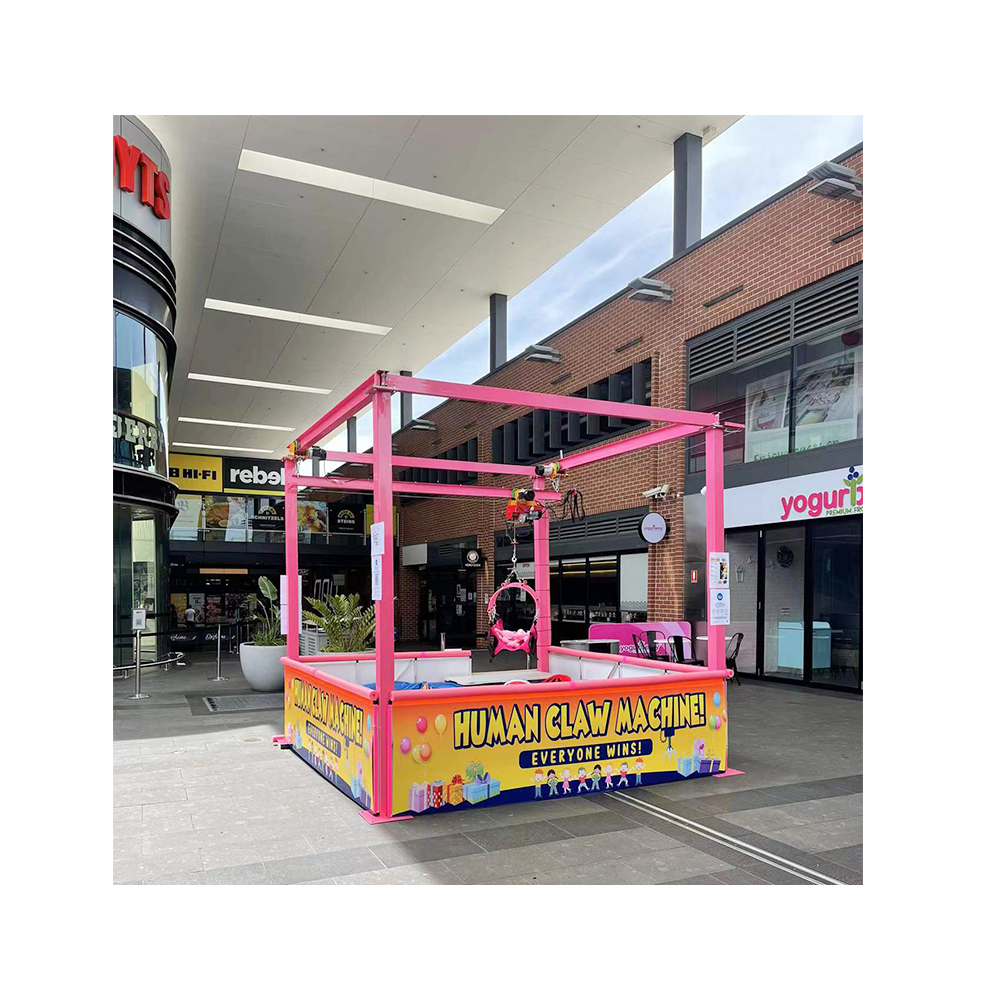 Product Details
| | |
| --- | --- |
| Name | Real people toy machine |
| voltage | 220V |
| power | 350W |
| size | 3M*3M*3M |
| MOQ | 1 piece |
| Material | Tempered glass+ hardware+ wood panel |
| Color | Customized |
| Products weight | 98KGS |
The real human claw crane game machine is a human game machine ,Complete safety facilities It comes with a safety helmet, safety gloves and safety measures.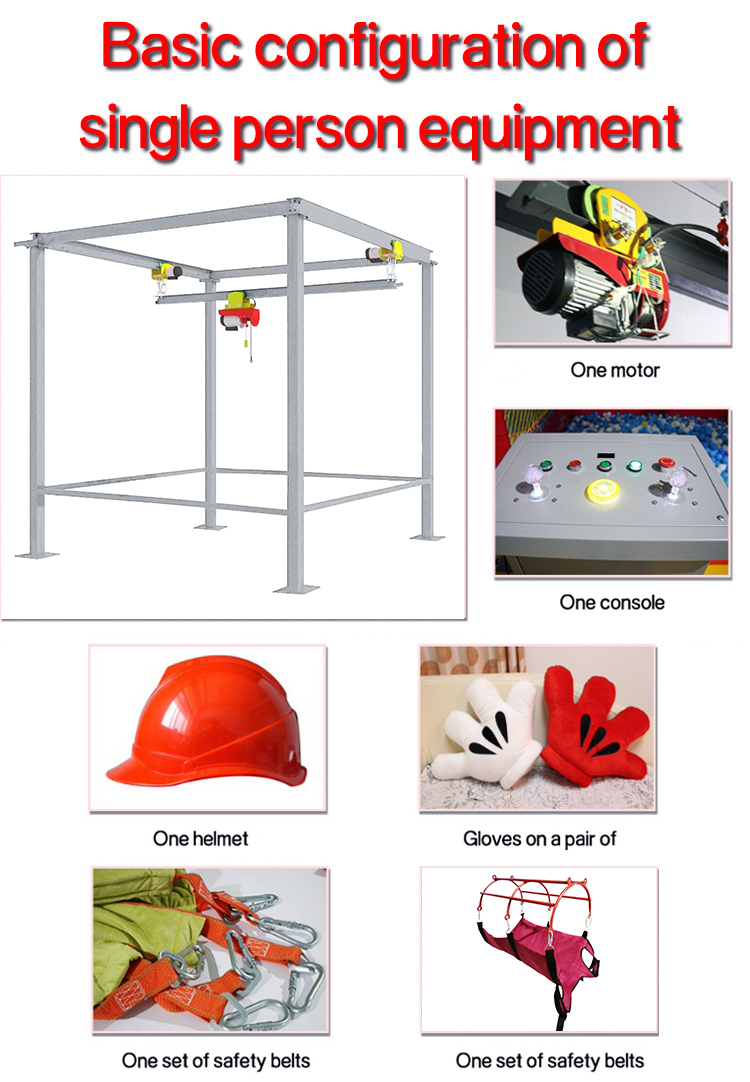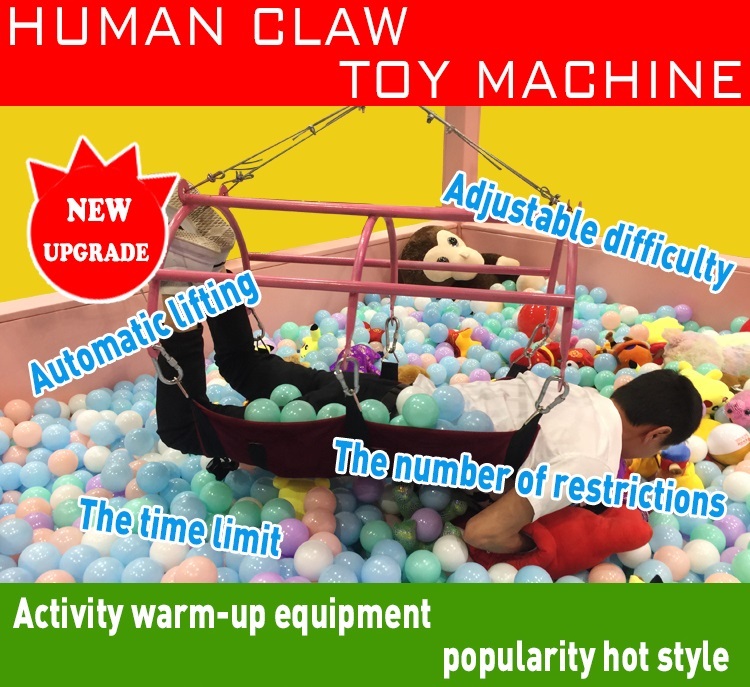 How to play?
This machine uses a human child in such a way. Just strap your kid into the harness and they will grab a large amount of loot as they hover over the prize pit. It's what kids do.
1.Generally, choose a child with a light weight to catch the doll, choose a good object, and then the operation is usually carried out by the parents, because the child is lightly controlled, and then the adult may be better than the child.
2.Safety measures are done well, and then the safety distance from below is also maintained, ensuring that there will be no problem when falling.
3.If everything is ready, then one person controls to move the person above the object that needs to be grabbed, then put the person down to grab the object
4.In order to increase the difficulty and interest, real people can move the following objects or characters to be unstable, increase the difficulty of grasping objects, and people should control the stability.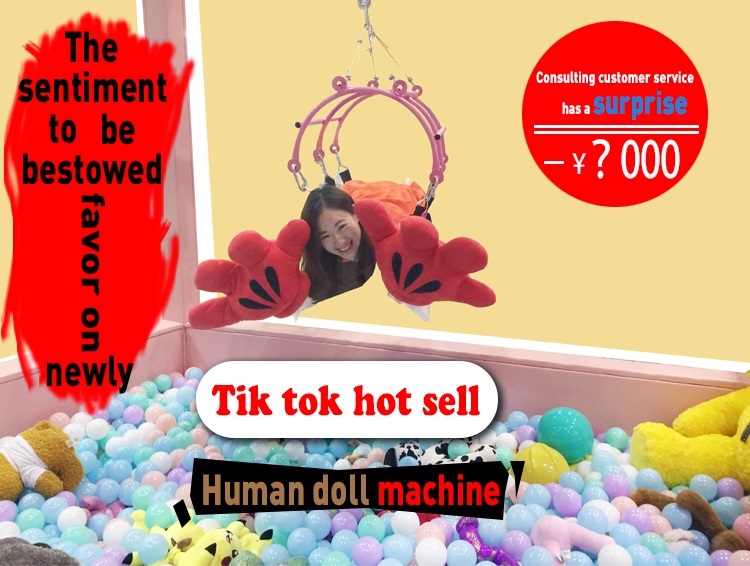 Where can run business?
1.Tourist attractions.
2.All kinds of Club, including private company club and racking club.
3.Star hotels.
4.KTV.
5.Movie theater, home theater.
6.Arcade.
7.Auto show.
8.Supermarket.
9.Science promotion activities and so on.
How to care?
1. Keep the room clean and decrease the duty, clean the surface of game machine with a dry, soft tool.
2. Avoid sun shine the game machine straightly with a long time, keep all the machine drying.
3. Checked machine lines various spare parts and every day, detected the problems in time, prepared to work next day.
4. If you don't need the game machine, to be packaged it well to place. Avoid the machine is damp and aging, please
open the machine to run 30 minutes in every two weeks.
Our advantage
1:The customer fastens the safety measures on the hanging basket;
2:Technicians operate the controls;
3:The controller swings up and down;
4: Hanging basket attached to the body drops slowly;
5:The basket will go up after time;
6:And the amount you carry is your gift.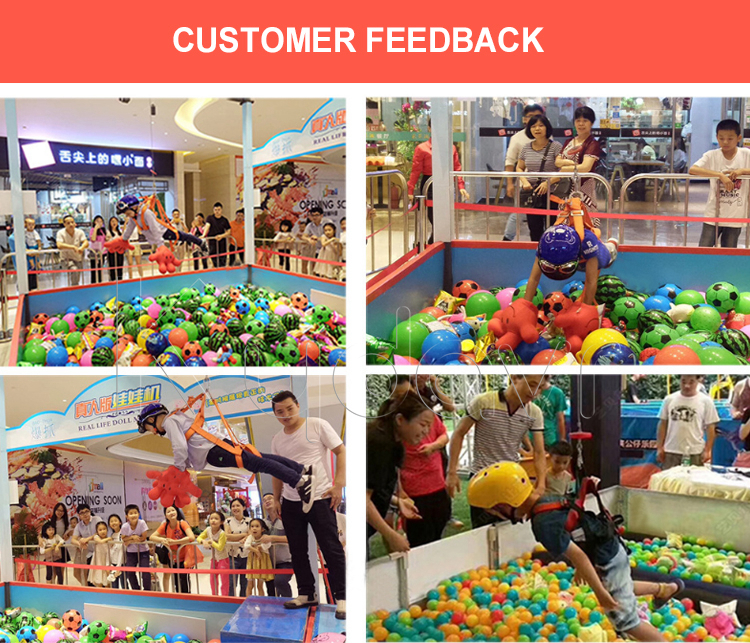 FAQ

Q: How long is the delivery time?
Base on the quantity you need. Usually within 7days;
Q: We are worried about your quality and after-sales service.
Direct Manufacture, No worry about any Technical problem;
Our service Team take turns on duty, Never delay Customer's business that is our Mission!
Q:How can we install the machines?
We will send detail installation manual and video, also supply remote control service.
Q: Package Safe package?
Bubble pack + Stretch films+ wood frame
Tags: grab gift human claw machine, the real human claw crane game machine, human claw crane game machine, funny grab gift human claw
If you want to know more products, we have: human arcade claw, grab gift claw carnival game machine, bingo draw lcd display casino machine
Controller:

Remote controller,Table controller
Machine frame color:

Black,White,Red,Pink,Blue,Yellow,Customzie colors
Machine size:

3*3*3m ,4*4*3m,4*4*4m,5*5*3.5m,5*5*4m,6*6*4m,Customzie size