Kydavr
Indoor Playground augmented reality projector interactive sandpool games
Indoor Playground augmented reality projector interactive sandpool games
The interactive projection is applied to a large beach to create an indoor beach, and you can experience the fun of the beach indoors.
What is the interactive sand beach or sand pool games?


Interactive virtual projector fantasy beach is an experiential interactive game combining real sand pool and multimedia interaction technology together to achieve a virtual scene. And it becomes more and more popular in many indoor playground , kids zone ,family entertainment centers , amusememt park ect.
Accessories of fantasy beach flooring
Product features:
(1)Children can learn about the nature knowledge in the entertainment, not just to satisfy the game desire.
(2)Children can gain the geography science knowledge by changing the sand color and water flow way in the entertainment set by intelligence, interaction as a whole.
Software

Hardware


Interactive projection software
Software SDK (Flash, C/C++,Java)
USB Dongle

1. AR Interactive sand pool game software

2. Computer

3. NEC projector

4. Infrared sensor camera 1 pcs

5. Wireless key mouse
Utilize the interactive projection, infrared induction, motion capture, image recognition smart sensor with interactive technologies.
Comine with the sand pool of the traditional amusement park for children, creat a new sand pool with strong sense of technology.
The high-tech new playing method: 3D interactive projection sand pool projects the animation and game with virtual and reality intergration into the sand pool. The real-time video image recognition sensing technology is adopted to carefully creat an interesting virtuality and reality integrated interactive interface, to give children different experiences and joys.
Advantage for amusement park:
1: Large-sized game interface display, strong multimedia sound effect, novel and eye-catching;
2: Indoor sandbeach, forest experience promote the transformation and upgrading of the amusement park;
3:Two game categories, endless entertainment, more interactive, popularity;
4:Easy-matching for various scenes, establish different strengths, increase profits.
Advantage for kids:
1:Cultivate children's thinking ability, improve their reaction speed, and improve the coordination ability of hands, eyes and brain;
2:Help to train the children's mentality, cultivate patience, and maintain a good attitude;
3:The children participate in the game together, enhance their communication abilities, and their awareness of cooperation and unity will be cultivated;
4: Encourage and praise in playing the game bring strong sense of accomplishment and enhance the confidence of children.
Application Areas
1. Large indoor theme park
2. Amusement park
3. Children entertainment park
4. Naughty castle
5. Shopping Mall
6. Parent-child multiplayer interactive places
7. Exhibitions and Trade Fairs
8. Advertising etc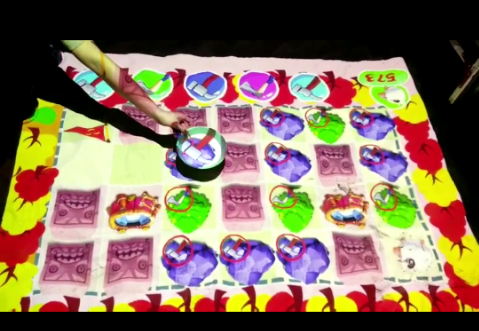 Tags: augmented reality projector sand beach, interactive sandpool games, indoor augmented reality projector, playground interactive sandpool games
If you want to know more products, we have: interactive floor projector for shopping mall, ar interactive projection trampoline, multi screen interactive projectors trampoline